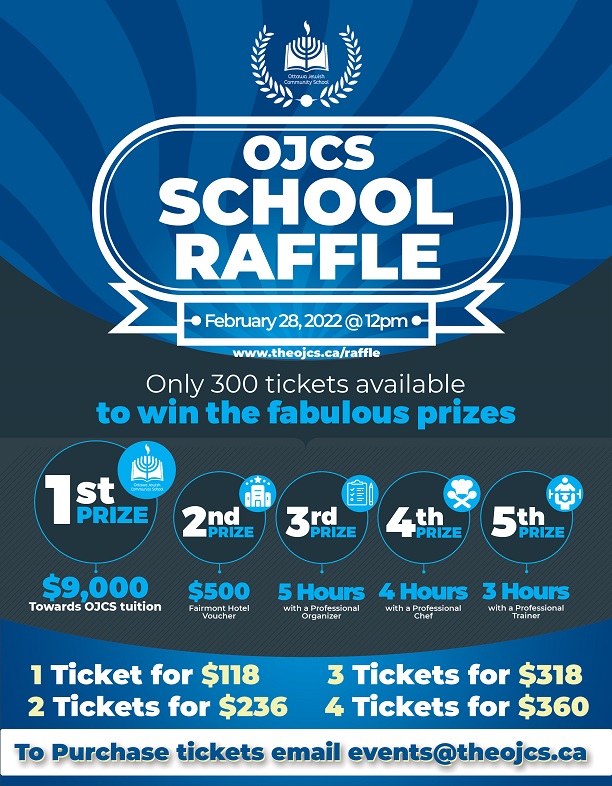 OJCS School Raffle
OJCS is having a school raffle and you could win one of five fabulous prizes!  Here are the details:
Ticket Prices

1 Ticket

$118

2 Tickets

$236

3 Tickets

$318

4 Tickets

$360
Tickets may be purchased 2 ways:

Via cheque or credit card at school from Staci during pick-up time at end of each school day. Please email events@theojcs.ca to contact Staci.
Via Interac e-transfer to etransfer@theojcs.ca.

If using e-transfer, please put "RAFFLE and the number of tickets purchased" in the transfer notes and email etransfer@theojcs.ca with your e-transfer password.
Prize Details
Grand Prize:     Tuition credit of $9,000* for 2022/23 school year*

Save BIG on tuition costs for the 2022-2023 school year!
Second Prize:   $500 Fairmont voucher good at any Fairmont hotel
Third Prize:       5 Hours with a Professional Organizer ($350 value)
Fourth Prize:     4 Hours with a Personal Chef ($260 value)

4 hours with personal chef Daniela Crocco of Mmm Chef for meal prep, menu planning, dinner party, stocking your freezer – whatever you need! Daniela has worked with all dietary needs (she's even been hired by a local synagogue to do a kosher cooking class), and is well equipped to meet your needs. Her motto is "your kitchen, your food". (Does not include the cost of food.)
Fifth Prize:        3 Hours with a Personal Trainer ($195 value)
Rules and Regulations
Maximum 300 tickets available to be sold.

Minimum 200 tickets must be sold for raffle draw to take place.

If minimum sales are not met, all tickets purchased will be fully refunded by method of original payment.

Draw for all prizes will take place at Ottawa Jewish Community School on February 28th, 2022 at 12pm.

Winners will be contacted by phone or email and given details on how to pick up their prize.

Tickets are not eligible for tax receipt.

Winner(s) may remain anonymous.

*Grand Prize can be applied to tuition of any student of winner's choosing.

*Grand Prize may be donated back to Ottawa Jewish Community School for scholarships.

$9,000 Ottawa Jewish Community School tuition reduction can be awarded after any other reductions due to the tuition grid or TAC award.

If grand prize winner owes less than $9,000 on total tuition costs, then grand prize will cover the balance. No cash will be awarded.

Tuition reduction is only for the 2022 – 2023 school year at Ottawa Jewish Community School.

Must be 18 years or older to participate.

Prizes may not be redeemed for cash value.

Ticket purchases are not tax deductible.

Lottery license #M836363.

Raffle is open to all anyone; however you must be in Ontario at time of ticket purchase to be eligible.
Please contact events@theojcs.ca or call

613-722-0020 x378

should you have any questions.
Good Luck, Bonne Chance, בהצלחה!