---
Canadian Geographic Classroom Energy Diet Challenge Awards
Another week…another award earned by our students and guided by our North Stars:  Each person is responsible for the other.  Our OJCS Middle School Social Studies classes – led by the fantastic Ms. Bertrend & Mr. Cinanni – have been recognized for their dedication to reducing their carbon footprint through completing the Canadian Geographic Energy Diet Challenge. Each Middle School class completed a series of 16 challenges, aimed at educating students about energy sources and also ways to reduce energy consumption by forming new habits at home and at school. Most of the challenges were completed at school, such as locating sources of phantom energy around the school building, calculating carbon footprints, recycled art projects, and hosting our own 'Eco-Exchange' swap. The classes won a variety of awards- some for being recognized for their work in a particular challenge to 'pool prizes' being awarded for completing all 16 challenges.
Below is a list of the awards received:
Grade 8:
Public Engagement Prize ( $1000 )

Pool Prize of Completed Challenges ( $228.26 )
Grade 7:
Take Home Challenge ( $ 1000 )

Pool Prize of Completed Challenges ( $228.26 )
Grade 6:
Tips, Tricks and Announcements Challenge Draw ( $125 )
To share the exciting news with the students, each class received a 'puzzle' sharing the news of each award that they had to complete and read together!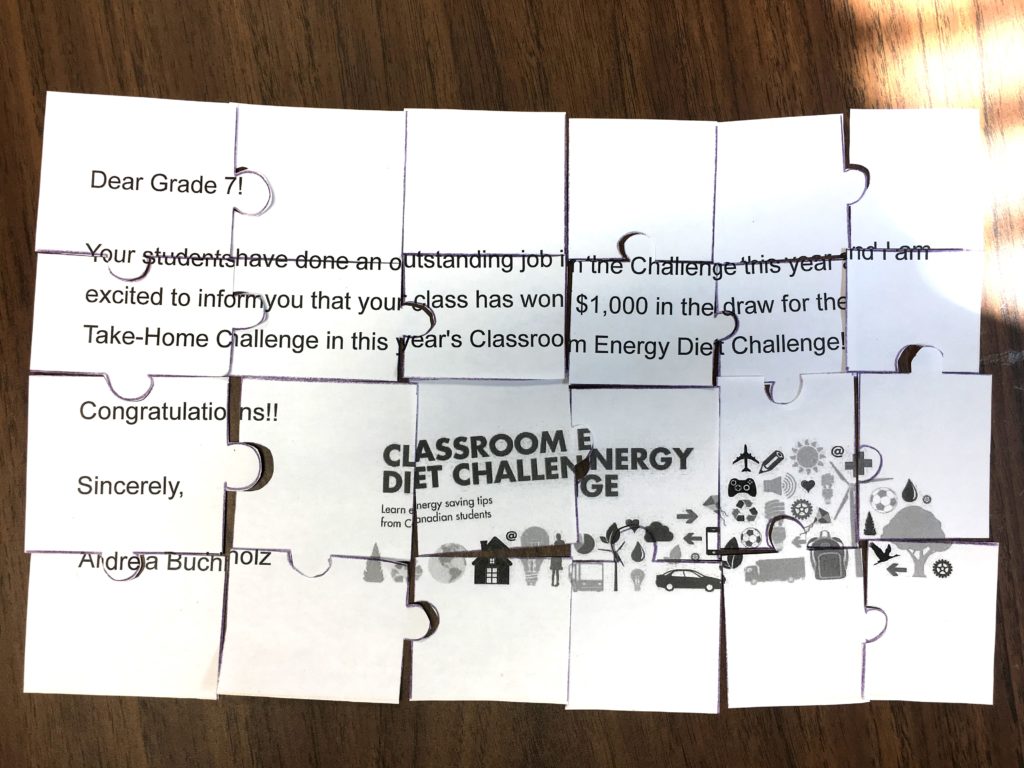 #TheOJCSDifference